We recently sat down with our Managing Director of the Sustained Dialogue Campus Network, Rhonda Fitzgerald to discuss our long-standing partnership with Ethiopian universities, Life and Peace Institute (LPI), and the Peace and Development Center (PDC). Rhonda has led our partnership with LPI and PDC from inception to now, and we can't wait to hear her reflections.
So, Rhonda, can you describe the partnership between Sustained Dialogue Institute (SDI) and LPI's Ethiopia program? 
The partnership began in 2009 after a group of Addis Ababa University students reached out to peace organizations around the world to begin work in their community. LPI was the only one to return their message. After learning more about the students' needs, LPI searched "college student dialogue" on google and found their way to us. This ultimately led to a four-way partnership between the campus, SDI's Campus Network, LPI, and the Peace and Development Center (PDC). Since we began 11 years ago, we have worked together to adapt the model to their other offices and campuses.
Can you talk a bit about the initial training with LPI and PDC in 2009? 
The 2009 training that launched the program included 35 students and a multi-country team of peace professionals. The training team provided students with all the tools they used in their own work including conflict skills and Sustained Dialogue skills. One student described it as a spiritual experience, so we knew that we probably were doing a good job by giving them skills to do this work themselves ahead of elections where political parties were stirring up violence on campus. The training directly addressed what the students were seeking to learn and do. It required lots of adaptation to make sure that the training was all that they wanted and needed, including building in questions like "is there a culture of dialogue here? If so, what are the words for it?" These questions continue to be a foundational element of their dialogue work.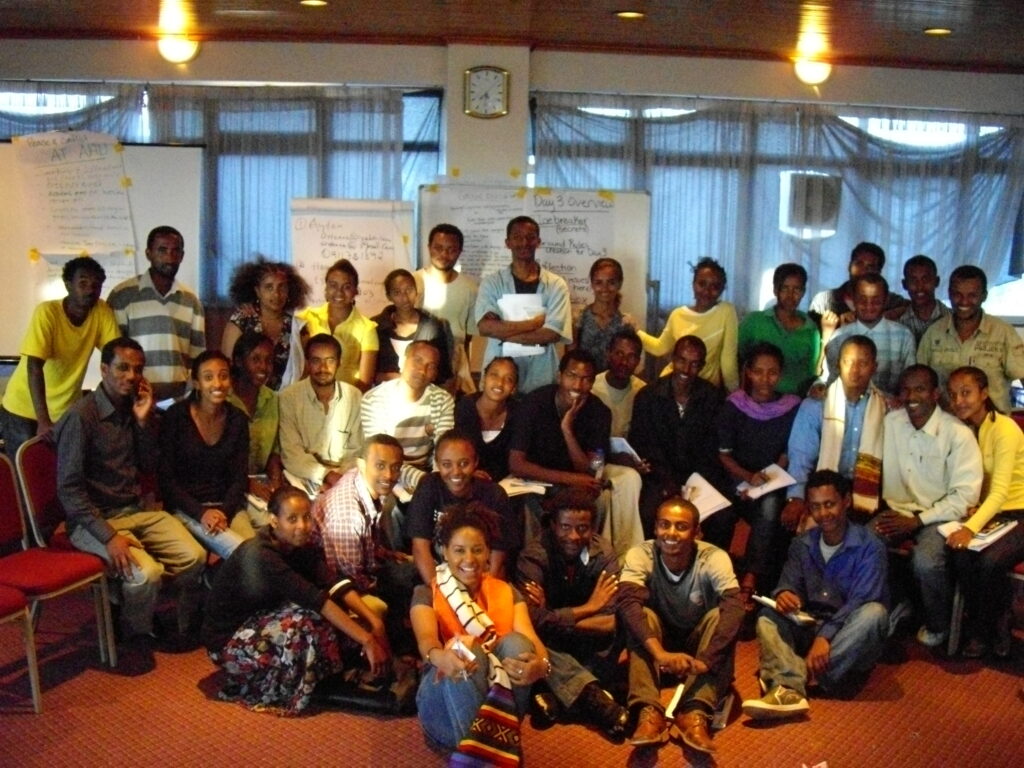 How have you seen the Ethiopia program grow and change? 
Since the initial training, the Ethiopia program has expanded and changed immensely. It is a large, independent network that has grown bigger than I ever thought it would be. The SDCN Ethiopia community includes thousands of people such as alums who have grown and developed in new ways through their experiences. As a part of some of the technical training teams, I believe that the sustained element of the partnership has been really nice. LPI has built Sustained Dialogue into their work as peacebuilders and it's rare to work with people who do such similar jobs, and they've done some really innovative peacekeeping work with really strong outcomes. The combined peacebuilding and dialogue elements have allowed the Ethiopia program to thrive.
How has working with Ethiopia program and other LPI programs affected how you do your work at SDCN? 
This work has taught the SDCN community and staff a lot about dialogue work, which has impacted how the larger SDCN community operates. In looking at the work of its partners, PDC does such great engagement with elders that has changed the way SDCN interacts with older populations. The LPI team has taught the SDCN team about fostering new, organic pathways to dialogue that are not forced on a culture. This cross cultural work as a whole has strengthened our ability to successfully train across contexts. 
What was the recent training last month? 
The most recent May training took these Sustained Dialogue lessons into account in our new COVID-19 context. The same group of peacemakers from Ethiopia, Kenya, Somalia, Sudan, Sweden, and the U.S. came together to learn how to conduct dialogues in a virtual environment using the Sustained Dialogue model that they know. 
What's been one of the most exciting things for you seeing the programs grow and change over the last 11 years? 
Being a part of the Ethiopia team's and other LPI teams' transition to this new virtual context and post-COVID was life-giving and solidarity-building for me. By now the people who I worked with in 2009 are leading programs and have dedicated their lives to peacebuilding and so have I. Homecoming was how it felt, like these are your people who are doing this work in Kenya, in Ethiopia, and I think everyone felt that. As SDCN's global programming expands and we continue to work across cultures, we are thankful to the leadership of our partners at Life and Peace Institute and Peace and Development Center.